Reconstructing Histories: Analyzing Exhibition Photographs with Computational Methods
S. Lang, B. Ommer
Displays of art in public or private spaces have long been of interest to curators, gallerists, artists and art historians. The emergence of gallery paintings at the beginning of the seventeenth century and the photographic documentation of (modern) exhibitions testify to that. Taken as factual documents, these images are not only representative of social status, wealth or the museum's thematic focus, but also contain information about artistic relations and exhibition practices. Digitization efforts of previous years have made these documents, including photographs, catalogs or press releases, available to public audiences and scholars. While a manual analysis has proved to be insufficient, because of the sheer number of available data, computational approaches and tools allowed for a greater access. The following article describes how digital images of exhibitions, as released by the New York Museum of Modern Art in the fall of 2016, are studied with a retrieval system to analyze in which artistic contexts selected artworks were presented in exhibits.
The full article can be found here: https://ommer-lab.com/wp-content/uploads/2021/10/Reconstructing-Histories_Analyzing-Exhibition-Photograhs-wit-Computational-Methods.pdf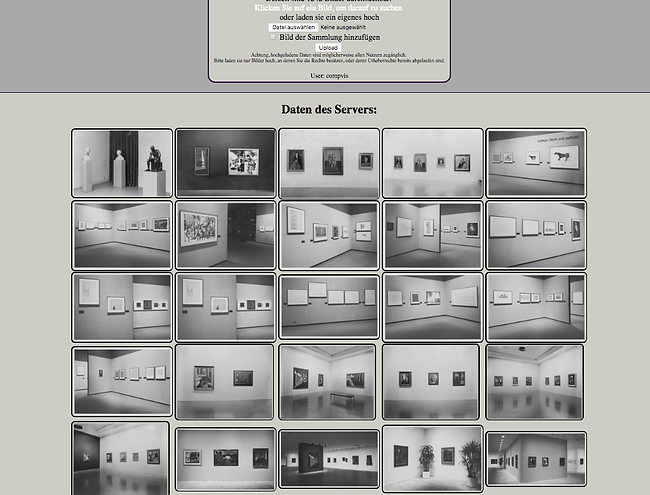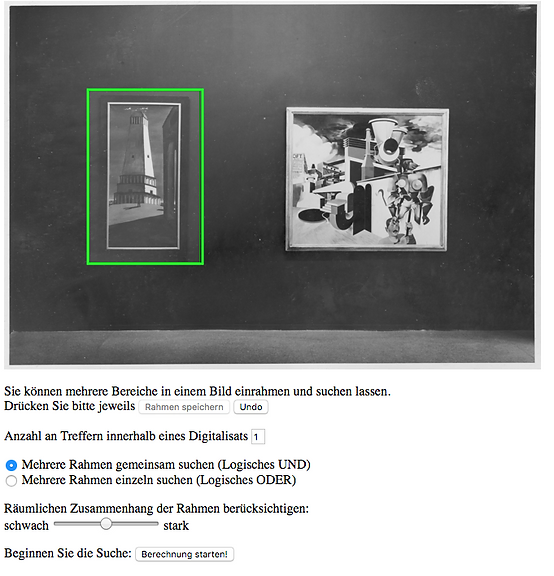 Left: A search for Giorgio de Chirico's 'The Nostalgia of the Infinite' (1912-13, oil on canvas, MoMA), using the interface. The image shows the selection of the painting in a photograph of the exhibition 'Painting and Sculpture from the Museum Collection' (October 1940 until Januar 1941).
​Bottom: Image shows the retrieval results, obtained using the interface for object and part retrieval.
Publication